Avenue Q - Puppetry Review
When: March 25 – April 11
Directed by: Stephen Wheat
Musical Director: David Wisken
Performed by: Kathleen Amarant, David Banen, Matar Dvir-Ovadia, Brett Fisher, Sarah Golding, Nick Hedger, Andrew Houston, Todd Jacobsson, Zuleika Khan, Leah Lim, Michael Lindner, Andy McDougall, Imogen Moore, Jordan Pollard, and Jeff van de Zandt.
Choreography by: Michael Ralph, Puppets by: Fenn Productions, Design by: Jacob Battista, Lighting by: Jason Bovaird, Sound by: Marcello Lo Ricco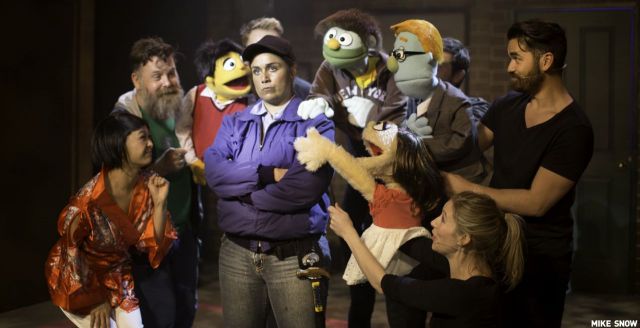 Avenue Q would have to be one of the most ambitious performances on the program for this years Melbourne International Comedy Festival (MICF). Produced by Trifle Theatre Company and presented at Chapel off Chapel it is also probably the show with the highest production values you will see this festival.
Avenue Q is part puppetry, part live performance with a full musical score. It is something of a adult version parody of Sesame Street although it claims no affiliation with Jim Henson or Sesame Street. It tells the tale of university graduate Princeton, with his BA in Arts, who is done with college and ready to take on the world. He moves into a shabby New York apartment in the only neighbourhood he can afford, on Avenue Q. There, Princeton meets Kate (the monster next door), Rod and Nicky (housemates bearing an uncanny resemblance to Bert and Ernie), Trekkie Monster (a reclusive internet sexpert), and other colourful neighbours. Together, they cope with their everyday struggles and help Princeton on his voyage to discover his purpose in life. Avenue Q addresses issues like sex, drinking, and surfing the web for porn without subtlety or apology, so it is definitely not for children!
This production is performed with a 5 piece band (who we never get to see, even at curtain call), comprising two keyboards, a guitar, bass, drums, and reeds. The band is truly excellent and big kudos to Wisken who manages to hold the entire performance in perfect synchronicity of timing despite obviously being in a less than ideal spot. I suspect he was in Rod and Nicky's house, but wherever he was, it is unlikely the performers could see his conducting, so it was obviously upon him to keep the band in time with the singers, no matter what they did. I have to say, it was flawless!
Battista made some really clever set design choices for this production. The musical was performed in the Loft space, which is quite small and an unexpected choice for a musical. He created facades for three two-storey brownstown terraces, which form the upstage and left and right walls of the performing space. It was a simple choice, but effective and still allowed Wheat some choices in terms of staging.
I was not as impressed with the costuming. Avenue Q has 7 characters who are puppets and 3 who are human. All of the puppets are manipulated live on stage by fully exposed puppeteers (who are also the 'actors'). In order to suspend disbelief and not 'see' the puppeteers, they are supposed to be in black or grey, and the 'real' people are supposed to be really colourful like the puppets. Battista has created a magnificent costume for Christmas Eve (Lim), but Gary Coleman (Khan) and Brian (Lindner) are in faded blues, which really doesn't bring them out from the greys of the puppeteers. This made it harder for the audience to create distinct lines of reality.
The puppets and puppeteering were overall just magnificent. The puppets were created by master puppeteer McDougall. McDougall made the puppets in 2011 for the SLAMS production. I suspect they have been updated because Kate Monster looked paler to me – which is a bit of a pity as more colour would have strengthened the tolerance allegory of interspecies relationships.
As I said, the cast generally do a magnificent job of the puppeteering, requiring a whole other level of concentration on top of the usual singing/acting/dancing trilogy of the usual musical theatre performer. Golding is great as Kate Monster, and just magnificent at Lucy T. Slut. McDougall really does steal the show (or his puppets do) as Nicky and Trekkie Monster. You can really tell this man knows his craft and he also has an amazingly versatile and compelling singing voice. I never thought I could feel affection for someone (or something) singing a song like 'The Internet is For Porn'.
My favourite puppets were probably the Bad Idea Bears (Amarant & Fisher) who pop up and convince Princeton to spend all his money and Kate Monster to go out and party rather than prepare for work the next day. Princeton ends up broke and desperate for work, and Kate Monster loses her job.
The only disappointing performance was that of Pollard. His overacting constantly upstaged his puppets, his puppeteering was poor, and for a lot of the night he sang flat. Given that he had the lead roles this was a real problem.
Overall the singing was great though. The cast is young and most of the women still need to develop strength in their mid-upper range, but that will come with time and dedication.
Lim was a real standout in performance. You could never look away from her, even when she was just popping her head out of the window, and she has wonderful comic timing.
The character of Gary Coleman, played by Khan, is an interesting plot device. Coleman is portrayed as an adult, forced to accept a job as a building superintendent in the run-down Avenue Q neighbourhood due to his dire financial situation. The show's creators have explained this trope as an illustration of 'one of the most important themes in Avenue Q...that life isn't as easy as we've been led to believe...and who better to symbolize the oh-so-special-as-a-kid/but-not-so-special-as-an-adult thing we all faced than Gary Coleman? He's practically the poster child." This whole show is about how ordinary we all are, and that this is okay so the device works. Khan does a good job generally, but in the final scene she portrays him as a dope smoking, cocaine sniffing layabout, however none of this is ever hinted at earlier in the production. The show and the character would be stronger and funnier if she played this into the character right from the start I think.
Avenue Q is a tried and true funny musical and ranks as the 23rd longest running musicals on Broadway. It is a lot of fun with enough technical requirements to really set it out from the crowd. There are rod puppets and hand puppets and the show does not confine actors to a single puppet so the changeovers are fascinating as well as the story.
Bovaird does a magnificent job to enliven what is quite a small space and give it movement and dynamics. The 'Loud as the Hell You Want' scene is magnificent, and Bovaird's design for Princeton's commitment phobic moment really does make that scene everything it is.
For a complete evening of fun and a whole lot of impropriety, sex (yes, there is graphic live puppet sex), and moral transgressions go and see this show. Within all of this so-called depravity lies some really big questions of inclusion and tolerance and basic humanity.